why choose arg?
We provide support to small locally-owned businesses as well as larger Fortune 100 companies. Our certified solution professionals prepare project plans to solve unique company needs in record time. We place high importance on fast response time and excellent customer service. ARG's team partners with industry-leading companies to ensure product quality and customer satisfaction.
The system has performed as we had hoped. Being able to easily identify damage even as small as chips on na windshield has saved us thousands of dollars. It is true that "a video is worth a thousand words". With a drivethru that sees more than 100 vehicles every day, we really needed a robust system. We've already avoided more than 25 damage claims in the first six months of operation. I really appreciate the flexibility you guys have shown in turning the cameras so we could see everything we needed to. You guys are outstanding as you brought the ideas we brainstormed into a reality for us. We couldn't be more pleased with the product or its implementation. -Martin Dealerships

- Dave Jernegan
Your attention to the specifics of the job as well as proper scheduling has been very remarkable, resulting to a job well done.

I would like to express gratitude in providing your all in completing your Martin Honda Service Center project. We would not hesitate to refer ARG Communications to other organizations who are also in need a quality services from a sub-contractor.

- Cedar Rock Construction
Your team took the project's design scope and came up with an ingenious solution to provide power to the cameras and our own wireless networking gear at each pole location involved. This was further complicated by the fact that our campus parking lots had different voltages at different campus locations but ARG worked with our facilities team at each location and made it all work.

Additionally, the wireless networking aspects of this project were another challenge. Only with your team's dedication and willingness to go above and beyond in working with our IT team, did this project reach the success we now have. I specifically recall several instances of ARG staff being deployed several times in successive days in an effort to assist our team.

Thank you again for ARG's commitment to the safety of our students, faculty, staff and college community. -Delaware Technical Community College

- Stephen Shirey
ARG has been contracted to provide our wiring infrastructure in a new plant in Newark, DE. We have appreciated their professionalism and competitive pricing. ARG has impressed us with their knowledge, punctuality, attention to detail, and flexibility to accommodate changes.

On a personal note, my interactions have primarily been with Joseph Ruggieri and Patrick Daly. Both gentlemen are patient, personable and helpful. They have rearranged their schedules and priorities to help us with equipment testing off hours.

The installation they've delivered is neat and orderly, reflecting their pride in their work.

Please consider this account an enthusiastic endorsement and recommendation for ARG and a solid reference should they ever need one. –LaMotte Company

- Jacqueline Wilson
I can say without question I am happy we went with ARG. I thank you and your team for the great work they have done.

- Harry Schneider
We've been using ARG for four years now and are very impressed and happy with their work. Our first project with them involved running a private fiber connection between our Lower and Middle/Upper School Campuses.

- Gregg Miller
In this world of hurry up and get the job done and move on, ARG is second to none when it comes to their customer service and attention to detail.

- Marie Ferrier
I can say without question I am happy we went with ARG. I thank you and your team for the great work they have done.

- Harry Schneider, O.S.F.S
I have dealt with a lot of vendors in my position over the past 20 years and can honestly say that you stand out as one of, if not, the best! This was a tricky and time sensitive project and you delivered!

- Julie Lacter
MySherpa subcontracts all of our voice/data cabling to ARG Communications, Inc. We have known and used ARG's services for twelve months and have been delighted with their service performance.

- Greg Gurev
We just want to take this opportunity to let you know about the outstanding service we received from ARG Communications when we decided to search for a new phone system.

- Hommy Poursaied
Our practice, Delaware Center for Digestive Care has a pleasure working with ARG for many years. Joe Ruggieri, Anthony Cascarelli and Aaron Logan have provided a superior support and customer service to our practice.

- Olga Brooks
We are very pleased with our new telephone system. We switched from Lucent/Avaya to ARG Communications. Joe Ruggieri was with us during our install and walked us through training.

- Patti L. Welk Thompson
We wish to thank you for your help in selecting our new phones. The two of you were able to explain the options and guide us to purchasing the phone system that fits our needs.

- Jennifer Wegner
We were pleased with the skills of ARG's personnel and their willingness to schedule their time when it made the most sense for our business.

- Paula Janssen
I am writing this letter as a testament to the quality of the services Genesis Healthcare Corporation has received from ARG Communications. ARG has been providing services to Genesis since 2004.

- Jack Knouse
Cape Regional Medical Center uses ARG Communications for all data, voice and fiber cabling services. We want you to know that we are very pleased with the quality of service ARG Communications has provided Cape Regional Hospital.

- Mike Cordi
I have been the project lead on several phone system conversions, and by far the smoothest one was accomplished recently with ARG Communications.

- David R. Price
I wanted to take a moment to thank the whole crew at ARG Communications for their outstanding work and the personal attentions that they have shown me and the team at AquaCap, a division of Douglas Laboratories.

- Frank Lucas
I had the pleasure of working with Joe Ruggieri from ARG Communications this past year while relocating our facility in New Jersey. Joe and his team successfully installed several hundred voice and data drops for our new building.

- Melissa A Romagnoli
ARG Communications became our provider of choice after exhaustive research and consideration of several communications companies. The communications world today is complex and expanding and we wanted a system that was easy to use as well as expandable for our future needs.

- Peter Curcio
Joseph Ruggieri
Joe grew up in Avondale, Pennsylvania and graduated from Kennett High School in 1985. He has resided in the Wilmington, Delaware area for the past twenty years. After high school, Joe served in the navy for eight years. Joe has extensive experience in sales including nine years of selling copiers and fax machines at Hilyard's. His experience also includes three years of selling information technology solutions and telecom network solutions at Info Systems. Joe started ARG Communications in 2003. He has a daughter named Ava and a son named Luca. In his free time, Joe enjoys mountain biking, soccer, restoring classic vehicles, boating, and being outdoors. Joe is an active member of Associated Builders and Contractors of Delaware, Circ Delaware, and the Technology Forum of Delaware.
Anthony Cascarelli
Anthony grew up in Edison, New Jersey and graduated from John P. Stevens High School in 1988. He then attended Cittone Insitute and graduated in 1991. Upon graduation, Anthony worked in many aspects of the industry including internal IT end user support, pre-sales support, system design, installation, training and continued field and remote customer service and support. Bringing over 24 years of experience with 15 as a Service Manager, Anthony joined ARG Communications in 2010. He is regarded by his peers as an expert in installation and trouble-resolution on telephone and VoIP systems. Anthony has earned Microsoft Certified Professional and CompTIA A+ Windows Certification. In addition, he holds several other manufacturer certifications including but not limited to NEC, Zultys, ESI, Nortel, and Vertical/Comdial. In his spare time, Anthony is an avid motorcyclist who enjoys hunting and disconnecting from technology at his family cabin in New York state.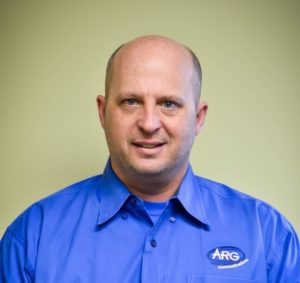 Jeffrey Clark
Jeff grew up in Wilmington, Delaware and graduated from Mount Pleasant High School in 1990. He worked in the carpentry and cabinetry business for five years before deciding to start a career in the telecommunications business as a lead technician with Fiber Networks where he worked for seven years. Jeff ran his own business called Coastal Communication Providers for four years in Lake Worth, Florida before deciding to return to Delaware. Upon his return to Delaware, he began working for ARG Communications as a Project Manager. Jeff has been with ARG since 2011 and holds a current BICSI Level II Copper Certification. He also holds installer certifications for Belden, ICC, Panduitt, AMP, and Corning/Siecor Fiber Optics. Jeff is an avid golfer in his free time and has won several club championships at various courses in the area.
our location
612 S. COLONIAL AVE, STE A
WILMINGTON, DE 19805
(302) 225-2000
---
17298 COASTAL HWY, STE A
LEWES, DE 19958